Popular Stories
Stocks lower as Fed's Powell says inflation unlikely to 'change on a dime,' despite rising bond yields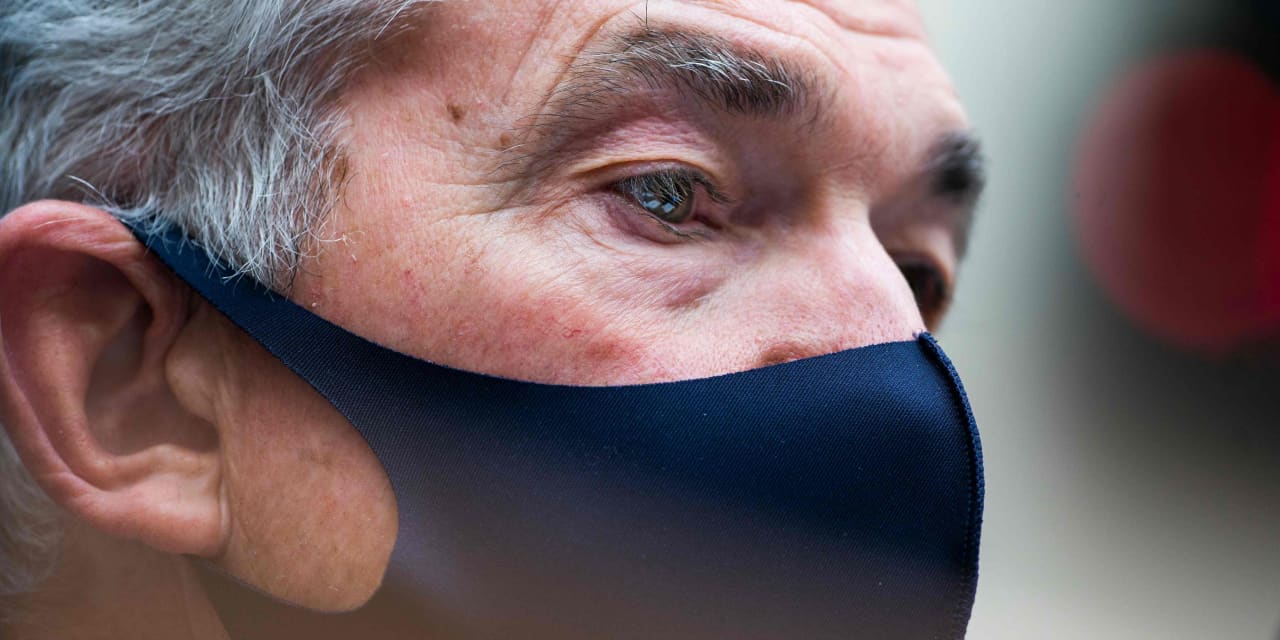 Stocks were lower Tuesday afternoon, with tech shares leading the way down, as Federal Reserve Chairman Jerome Powell vowed to keep monetary policy accommodative, and warned that the U.S. economic recovery remains uneven and far from complete.
The continued rise in benchmark bond yields also pressured stocks.
What are major benchmarks doing?
The Dow Jones Industrial Average DJIA, -0.47% fell 171 points, or 0.5%, to 31,355.
The S&P 500 SPX, -0.84% was off 38 points, or 1%, at 3,837.
The Nasdaq Composite COMP, -2.20% declined 341 points, or 2.5%, to 13,192.
Big losses for tech shares left the Nasdaq sharply lower Monday, falling more than 2%, while also weighing on the S&P 500. The S&P 500 suffered its fifth straight loss, the index's longest losing streak since a seven-day skid that ended last Feb. 28. The Dow benefited from a rotation to more cyclically oriented stocks, eking out a gain of 27.37 points, or 0.1%.
What's driving the market?
Stocks were under pressures as Powell told lawmakers on Tuesday that the central bank doesn't expect to shift its accommodative policy stance until there a lasting economic recovery can be achieved.
Powell, in testimony before a Senate panel, gave no indication that rising bond yields or inflation expectations would rush the Fed to begin reining in its efforts to support the economy.
Live blog: Fed Chairman Powell's testimony to Senate Banking Committee
Instead, the Fed chair again stressed that he doesn't expect a "large or persistent" rise in inflation, even as trillions worth of stimulus slosh through the economy and swaths of the population can get vaccinated.
"We will be watching that very carefully," Powell said. But he also stressed that the "economy is a long way from our employment and inflation goals, and it is likely to take some time for substantial further progress to be achieved." He described the recovery as "uneven" and "far from complete," while saying the path ahead remained "highly uncertain." Powell, however, acknowledged that "developments point to an improved outlook for later this year."
A sharp rise in Treasury yields has captured the attention of investors, spelling trouble for tech and other previous highfliers. Higher yields make bonds a more viable alternative to stocks, particularly those that have seen their valuations stretched.
"That's certainly a concern in the market," Yung-Yu Ma, chief investment strategist for BMO Wealth Management, told MarketWatch in an interview, adding that while Powell made clear he doesn't expect inflation to "change on a dime," that inflation in today's environment could play out differently from the past.
"It's somewhat new territory we are wading into, given the size of the stimulus," Ma said. "That's what the markets are contending with."
Shares of companies more dependent on the economic cycle have benefited, buoyed by expectations for a pickup in growth as the economy more fully reopens courtesy of aggressive fiscal stimulus, vaccine rollouts and falling COVID-19 cases.
Read: Climbing bond yields globally put central banks 'in a bind,' warns economist
Meanwhile, rising yields progressively have made bonds viable alternatives to stocks, especially equities that led the market higher after the onset of the COVID crisis, said Scott Knapp chief market strategist at CUNA Mutual Group.
"While very early in a process that has no guarantee it will continue, market sentiment is moving from 'there is no alternative to stocks' to 'stocks look like the less-attractive alternative,'" he said. "Only time will tell if markets stay on this path."
In One Chart: Can the bull market in stocks survive rising inflation, bond yields? Here's what history says
On the fiscal front, the House Budget Committee on Monday approved a $1.92 trillion bill to carry out President Joe Biden's coronavirus relief plan, a first step toward likely House passage by the end of the week. While the ultimate package is likely to shrink, analysts expect its final price tag to come in not far below Biden's $1.9 trillion proposal.
Bitcoin BTCUSD, -14.43% continued to drop sharply from its high above $50,000 after Treasury Secretary Janet Yellen on Monday called the cryptocurrency an "extremely inefficient" way to conduct transactions.
Read: A tangled market web of Tesla-bitcoin-ARK Investment could spell trouble for investors, warns strategist
The S&P CoreLogic Case-Shiller home price index showed house prices rose 10% in December.
The Conference Board said its index of consumer confidence rose to a three-month high of 91.3 in February from a revised 88.9 in January.
Which companies are in focus?
What are other markets doing?